HOME
>
ABOUT
>
PRODUCT AWARDS
NITECORE Chosen as Winner of iF Design Award 2022
April 20th 2022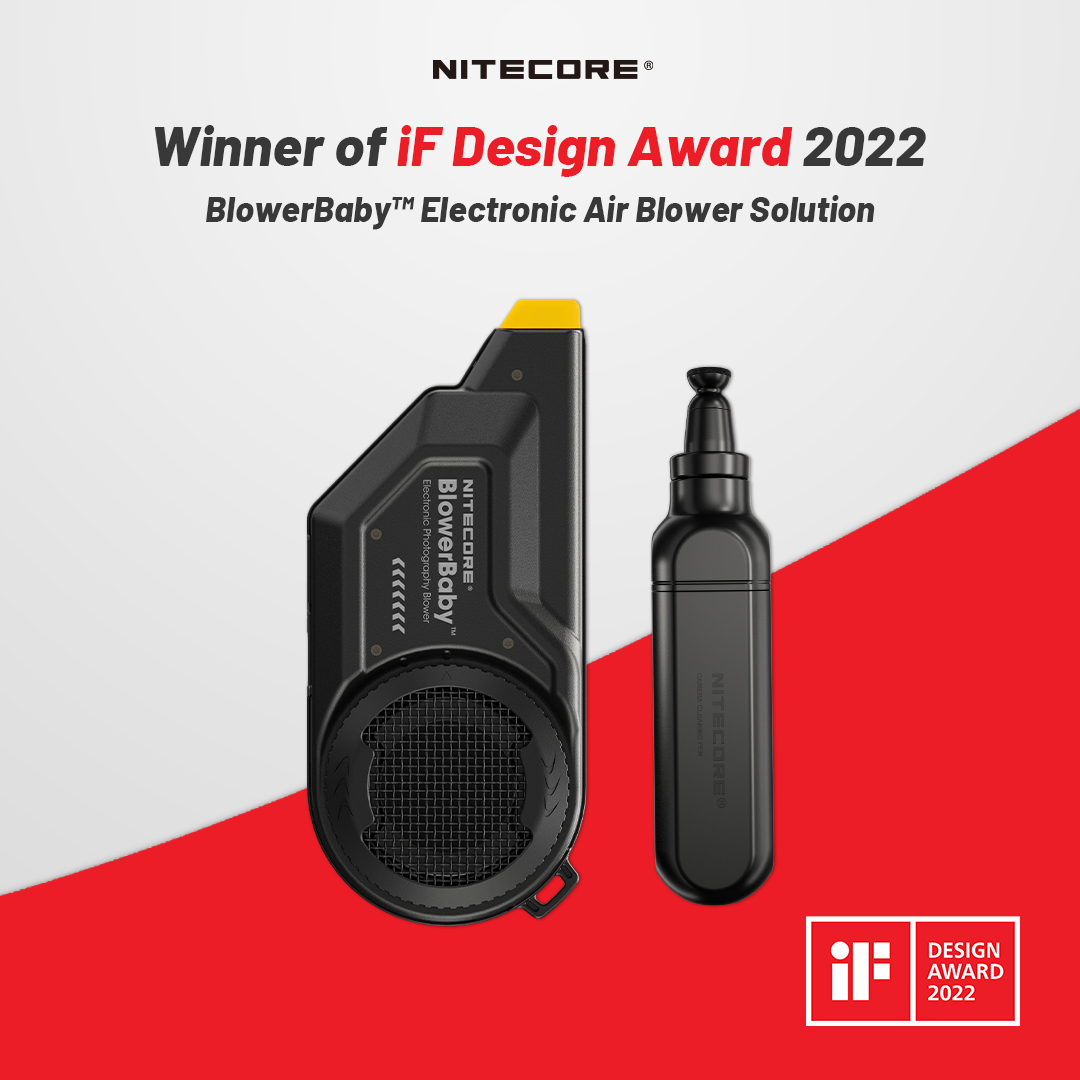 As one of the world's most prestigious design awards, the iF Design Award has recently released its winners of 2022. The NITECORE BlowerBaby™ Electronic Air Blower Solution was chosen as the winner of iF Design Award 2022. This is the fourth time that NITECORE has won an iF Design Award, which marks a new level for us in innovation.
After two purely "digital" years, iF Design held the first major live event in Berlin with 75 design experts from 23 nations: The iF Final Jury 2022. The independent design experts evaluated the designs from almost 11,000 submission from 57 nations. After three intensive jury days, full of competent discussions, arguments, examinations and testing, they were determined - the winners of the iF DESIGN AWARD 2022.
BlowerBaby™ Electronic Air Blower Solution
As a grand-slam award-winning brand, NITECORE is dedicated to implementing the notion to "Keep Innovating" to reinvent the camera cleaning solutions. We care for the safety of your photographic equipment. From the study of industrial design to the application of the aerodynamics, we are here to challenge the impossible and begin a new era of electronic air blowing. BlowerBaby™ is the first Electronic Photography Blower in the world, able to produce 70 km/h (43.5 mph) strong wind. The unidirectional air intake prevents secondary damage to the object surface. 2 replaceable filter options are available including the Standard Filter and the Sensor Cleaning Filter. With a built-in 1,500mAh Li-ion battery, it is USB-C rechargeable and highly efficient with a reversible plug-in. A one hand operable brush-and-blow cleaning process can be achieved combined with the Camera Cleaning Pen for optimized cleaning performance.
The NITECORE Camera Cleaning Pen is equipped with a reversible Magnetic Carbon Cleaning Tip with a high adsorption capacity. The Camera Body Cleaning Brush and Lens Cleaning Brush can be installed on the BlowerBaby™ to achieve comprehensive cleaning solutions.
Inspired by the notion to "Keep Innovating", NITECORE has once again won the iF Design Award, showing the technical breakthroughs and outstanding product engineering to the international market.
In the days to come, NITECORE will continue to keep improving in the industries of professional lighting, power solutions and camera cleaning, offering more high-end products to our fans and customers all over the world.