HOME
>
ABOUT
>
PRODUCT AWARDS
NITECORE SCL10 Awarded as Best Power Accessory of TIPA World Awards 2021
May 24th 2021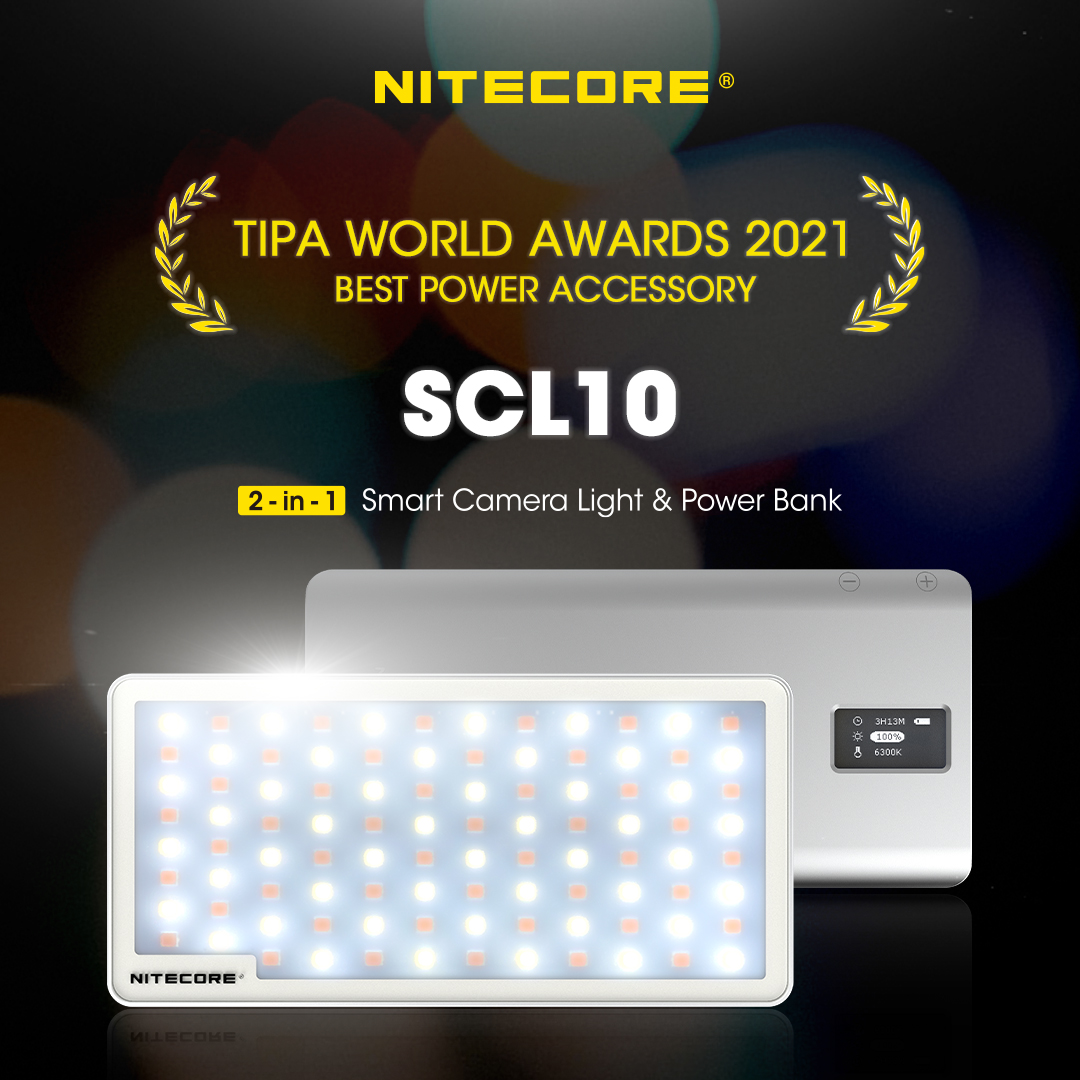 The NITECORE SCL10 2-in-1 smart camera light & power bank is awarded as the best power accessory of TIPA World Awards 2021. After overall evaluation from the TIPA Technical Committee Editors, the NITECORE SCL10 stood out among many excellent nominations and won the best power supply accessory. NITECORE once again got recognition from the market and the industry for its dedication to technological innovation and great product quality.
TIPA, the Technical Image Press Association, is composed of many member publications in the photo/imaging field published in print and online, covering markets around the world in Europe, Asia, Australia and North and South America. Each year, the editors of the member magazines vote for the best products introduced to the market during the previous twelve months, taking into account innovation, cutting-edge technology, design, ease-of-use and the price to performance ratio of the products.
TIPA Association cannot only be characterized as an organization that bestows TIPA WORLD AWARDS to the very best products, but also as an active and committed association that plays an important role in the industry. Visits to factories and meetings with leaders of major companies have ensured that TIPA is a recognized interlocutor that the industry listens to.
Here's the jury citation of the NITECORE SCL10:
Filling a camera bag with accessories—batteries, chargers, lights, wires, cards, etc.—is easy these days, so any product that comes along that handles multiple tasks in one device is more than welcome. The Nitecore SCL10 serves as both a Smart camera light and a 10,000mAh power bank in one. The light, with the included hot shoe mount, offers 800 max lumen output with a variable color temperature range of 2500-6300K, making it perfect as a fill light for still and video shooting (as well as an emergency flashlight). The battery has a maximum runtime of 70 hours as a camera light, is rechargeable via USB-C, can be used as a power bank for other devices and has an OLED display for brightness, color temperature and remaining battery life.
Natural light is uncontrollable, so the way to a master camera light is essential to make your photography perfect. The NITECORE SCL10 2-in-1 smart camera light & power bank is ideal as a fill light for photography, video shooting and live streaming. It can also be used as emergency lighting or a power bank.